In service of its mission, the Hollings Center for International Dialogue sponsors multiple programs.  These programs aim to enhance the Center's core values and deepen its impact in both the United States and in Muslim-majority countries.  These programs have received positive responses from participants and produced impact on those involved.
---
Dialogue conferences were the Center's first program in 2005 and serve as the anchor to all of the Center's other initiatives and programs.  As of 2018, the Center has organized over 40 dialogues, hosting nearly 1,000 participants from 45 countries.  These dialogues, honed by over a decade of experience, have utilized a methodology that has influenced the Center's values of crafting a balance of ideas, diverse viewpoints, and a participant-driven experience.  The Center seeks to address underserved topics of critical importance to both the United States and Muslim-majority nations.  Hollings Center dialogues convene a diverse mixture of policy makers, academics, businesspersons, civil society representatives, journalists, and government officials.    This carefully crafted balance enables participants to make fresh insights on major issues, establish new connections with colleagues, and build long term partnerships.  To encourage frank discussion and protect participants involved, the dialogues observe a modified Chatham House Rule, which permits the dissemination of discussion outcomes, while protecting the privacy of participants.
Currently, the Center's dialogue conferences are categorized into several ongoing initiatives:
The Small Grants Program enables select participants to pursue collaborative projects that build on critical issues raised at the dialogue events. The Center provides grants to selected participants to support follow-on initiatives such as international visits, pilot studies, professional development opportunities, workshops and research-driven written or video projects. The small grants program promotes cross-cultural collaboration that amplifies conference outcomes and deepens participant networks. The program aims to be a force multiplier of dialogue conference outcomes and a method to keep previous dialogue participants engaged with each other. Since the inception of the program, the Center has funded dozens of projects, awarding over $300,000 to projects that have included exchanges, research projects, follow-on meetings, and media development projects.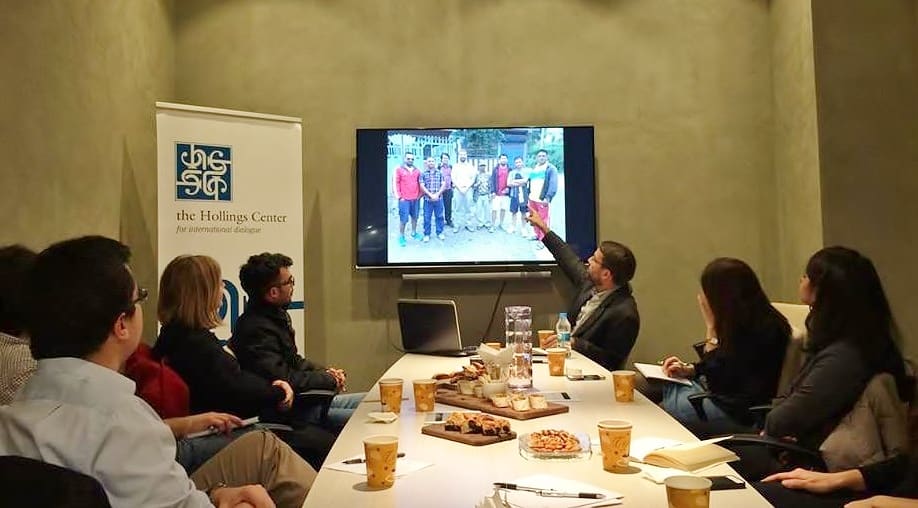 Hollings Center events include private and public roundtables, panel discussions, workshops, seminars, and networking opportunities. Events take place in the United States, Turkey, and other countries throughout the world in coordination with partner organizations. These serve as opportunities to bring dialogue conference outcomes to a broader audience and look at specific outcomes with greater specificity.  These events reinforce and expand networks and promote new thinking to a broader audience of professionals, researchers, journalists, and policy makers.